AXIAL FANS
AXD
- Direct Drive Axial Fans
AXB
- Belt Drive Axial Fans
Flow :
1.000 - 250.000 m³/h
Inlet Size :
280 - 2.000 mm
Industrial facilities, are used as cooling or ventilation purposes. Our Axial ventilators clean or dusty air to work with and suitable for industrial applications. Fixed wall mount, duct, and an optional wheel grades are available.
We manufacture directly driven in line axial flow fans which are suitable for medium to high volume & low pressure applications.
Our axial fans are intended for building services and general ventilation applications and are offered with case construction from mild steel painted or galvanised after fabrication or stainless steel bead blasted after fabrication.
To standard motor types we can fit aerofoil section polypropylene, polyamide or adjustable pitch aluminium impellers or we can fabricate mild steel or stainless impellers to fulfil certain performance attributes.
All axial fans are available with a range of ancillaries such as flexible connections, backing flanges, spigot flanges, fan feet, Anti vibration mounts, vibration monitoring, rotational sensors.
Accessories
Separate upstream and downstream guides vanes

Mounting Feet

Inlet Cone

Matching Flanges

Wire Guards

Anti-Vibration Mountings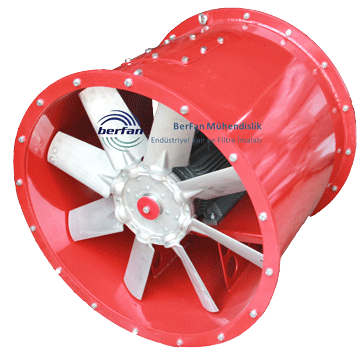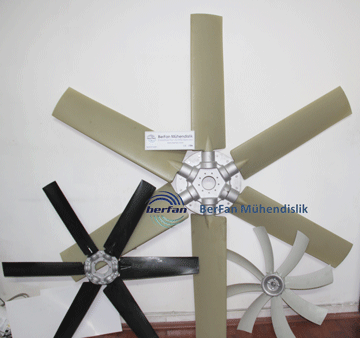 ROOF FANS
RFA -
Axial Roof Ventilators
RFR -
Radial Roof Ventilators
The manufactured centrifugal roof extract unit has been designed for the effective exhaust. it is possible to montage in the desired angle with the small sound Ievel it may be used in for the industrial applications and kitchens. It has been designed for Iong service Iife without maintenance.
The manufacturing range 500-25.000 m³/h air and 100-1.000 Pa Pressure.
Roof-mounted industrial centrifugal extractor fans can be installed on all types of roof is designed for direct installation or ducted installation. is appropriate for domestic and industrial applications required low noise level and perpetual activeness It is designed according to the bat environment conditions
Galvanized stell frame, aluminium upper cover are used.Cenrifugal ventilatör is statically and dynamically balanced.Motor serves 380V/50 Hz 900-1400d/d as astandard and directly coupled with d-phase electirical motor. By this way, it works quitely and without vibration. Fan has dense fimed, low sound level and highperformance.It is easy to open the fan and clean the fin at shot notice. By the help aof special protection cover, itwork many years without any problem. Centrifugal roof extract units designed as direct extraction or combined with a duct type.