High Pressured Radial Fan - Blower
Impeller
High Pressured Fans - BLOWER
The field of application of high-pressure fans extends over almost all branches of industry. Our high-pressure fans cover a pressure range from 1.000 to 40.000 Pa. Thanks to their simple and solid construction, these fans know how to convince. Whether they are used as a blower in an industrial washing machine or as a ventilation fan in a compost works, these machines perform every day.
Application of Blower
Pressure blowers provide air for Burners, Furnaces, High pressure process applications, Water treatment plants, Dairy, Ceramic plants, Textile plants and many Conveyig system, include combustion air, pressure and vacuum drying, product cooling, primary air supply to ejectors, liquid agitation, glass blowing and cooling, water blow-off, air pollution control systems, exhausting, pneumatic conveying and gas boosting. Available in different arrangements and 8 discharge position to meet your needs and specification.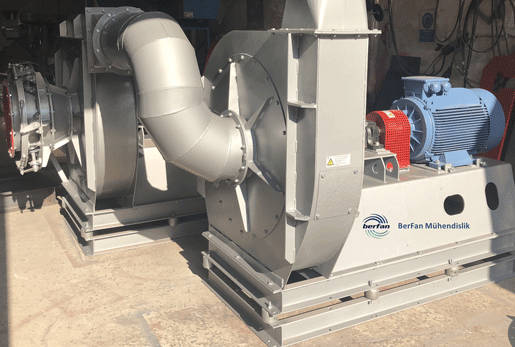 Centrifugal High Pressure Fan Selection
Before selecting the Centrifugal Fan, below issues should be taken into account in order to make the best selection that satisfies the necessities.
1-The required air flow rate ( m3/h or m3/minute )
2-Required static or total pressure ( mmSS, Pa ) during the operation of ventilation.
3-The density, temperature and contents ( dust, cleanliness etc )
4-The acceptable noise level at the medium of Fan. ( The diversions of nominal Fan efficiency increases the energy consumption and noise level)
5-Physical Montage conditions( montage area, Channel connection etc)