RADIAL FANS
Berfan products, standard and specifically chosen components not only maximize the efficiency of products but also increase the quality of products with low prices. Availability of various spare parts for all industrial areas also provides significant privileges for our Customer. Special manufactured rigid steel rotors offer the long life operation time and reliability of equipments.
A Centrifugal Blower Fan is a mechanical device for handling air of all types. It has an impeller composed of a number of blades. The impeller is fixed to a shaft through hub. The shaft is mounted on two bearing on pedestal and driven by a pulley and belt. The impeller can be directly mounted on a motor shaft in case the blower is to limited size where bearings, pulley and belt are eliminated. The impeller creates the centrifugal force which draws the air through inlet and discharged through the outlet. Dampers are used to control air flow. We design & manufacture fans exactly matching its purpose. Moreover, we are counted amongst the prominent Centrifugal Fans Manufacturers in Turkey.
Application
Berfan develops and optimizes individually designed partial and complete solutions for almost all industrial air handling applications. Large and special fans from Berfan are unique systems which are optimised for each application with the best possible efficiency and maximum availability.
Industrial fans are valuable equipments for moving air and materials required in a wide variety of manufacturing processes and industries, including cement, power, mining, coal treatment, pollution control, oil and gas, ethanol and steel. They are used for a myriad of applications, including supplying combustion air for burners, to move dirty air streams, remove particulates from exhaust streams, ventilating mine shafts, blowing coal dust into power plant furnaces, recirculate process gases, or induce drafts in kilns used to manufacture cement and other materials. Due to the extreme environments in which they are often used, these fans are frequently subject to corrosive chemicals, high temperatures and abrasive air streams. Therefore, for reliable service they must be carefully engineered. The latest computer modeling technologies, such as finite element analysis and computational fluid dynamics, are often employed in the design.
Centrifugal Fan Selection
Before selecting the Centrifugal Fan, below issues should be taken into account in order to make the best selection that satisfies the necessities.
1-The required air flow rate ( m3/h or m3/minute )
2-Required static or total pressure ( mmSS, Pa ) during the operation of ventilation.
3-The density, temperature and contents ( dust, cleanliness etc )
4-The acceptable noise level at the medium of Fan. ( The diversions of nominal Fan efficiency increases the energy consumption and noise level)
5-Physical Montage conditions( montage area, Channel connection etc)
TYPES OF CENTRIFUGAL FANS
There are different types of Centrifugal Fans covering air volumes from 5.000 to 1.000.000 m³/hr and from 50 to 30.000 Pa. Each application requires a fan with different characteristics, whether it be the blade design, the width of the casing or even the method of drive. By way of a guide as to which is the best fan for certain projects, we list below information that might assist the potential user.
Transport Blade Radial Fans
This type of fan is used for the conveying of dust, wood and paper refuse, cotton fly etc. Since the blade design prevents 'build up' of waste materials, discharge velocities vary dependent upon what is being conveyed in the air stream.
Forwerd Curved Blade Radial Fans
Used for general ventilation purposes – not good for dust etc. Limited pressure characteristics.
Backward Blade
Radial Fans
Non overloading power characteristics suitable for very light dust applications (eg clean side of dust collector) where a good efficiency is required. Used for high pressure ventilation systems or where the system resistance could fluctuate.
Aerofil Blade
Radial Fans
The most efficient of all centrifugals fans, ideally suited to general ventilation projects where there is no possibility of dust contamination. Recommend for high pressure ventilation systems or where the system resistance could fluctuate.
High Pressure Blowers
As their name suggests, these fans are applied where the requirement is for high velocities, eg Air Curtains, refuse conveying etc.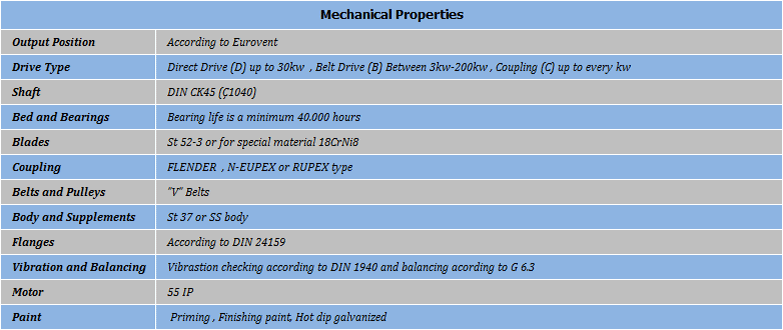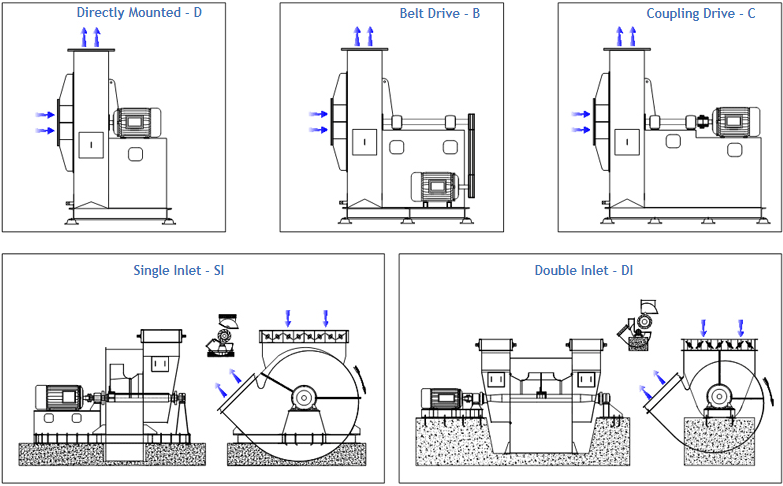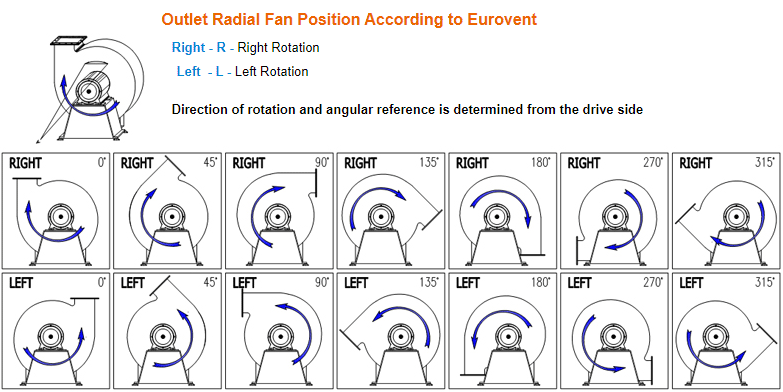 All pictures are Berfan Manufacture
© 2021 BERFAN Engineering All Rights Reserved